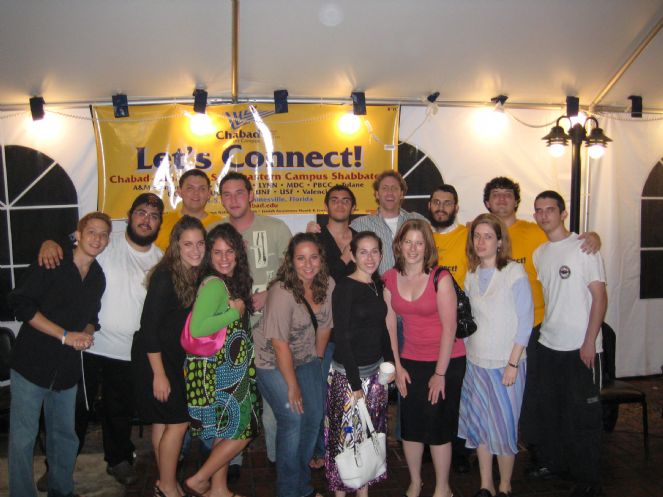 Dear Students:

The Chabad Student Association is a student-run group, focused on increasing Jewish awareness on campus as well as providing unique social and educational activities and opportunities to students from all walks of life. Indeed, the Chabad Student Association is one of the most active Jewish groups on Campus!

Last year's schedule was packed with exciting and fun activities, a tradition we plan to continue this year.
Other accomplishments of the group include a Kosher Cooking Club, holiday awareness programs, great guest speakers, and more! We also have Shabbaton weekend trips to Gainesville, South Florida and even to New York.
Chabad on Campus also offers home-hospitality Shabbat dinners, counseling services, a full-time rabbi serving the campus community and much more.
We are very excited about the coming year's activities and working hard to make sure you have the absolute best Jewish experience on campus. Chabad offers plenty of leadership opportunities too, just ask any board member how!
Faculty Advisor
Professor Naama Nagar
Executive Board
Matthew Feuer, President
Gloria Bautista-Robitschek, Vice President
Sarit, PR
Jordan Bluestein, PR
Mitzvah Campaign
Job Magill
Greek Life Liaison
Gabriel Grynsztein
Freshman Outreach
Noa Ginsburg
Emily Bortnik
Israel Advocacy
Derek Silver