Passover Campaign
Help us share the joys of our holidays!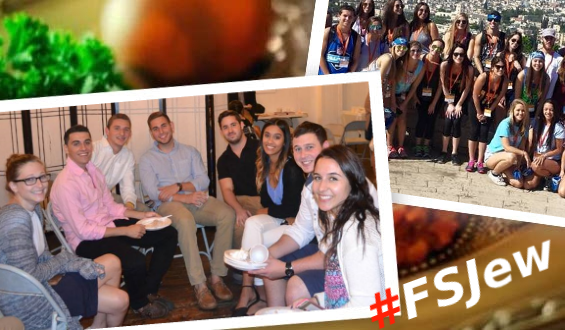 Dear Friend and Supporter,
My wife Chanie and I thank you for making this years Passover a beautiful eight day celebration of our faith and spirituality. 
With your help, we raised more than $36,000 towards our overall Passover budget.
Here is a partial list of what we've accomplished together this Passover; 
Printed and distributed 2,500 informative Passover Journals to our greater community
Hosted more than five hundred FSU students and community members for services and Seders
Brought six Rabbinical students from N.Y. and New Jersey to help with all the Passover preparations and Mitzvot. 
Distributed more than five hundred packages of Shmurah Matzo in the community.
Raised $3,600 (10%) of money raised for families that need help celebrating Passover.
We still have $10,000 left to cover our Passover payments and expenditures, so if you or someone you know wants to help us complete our campaign please send them this link www.JewishFSU.com/passoverdonate.
Once again on behalf of myself, Chanie and everyone at Chabad Tallahassee and FSU,
Thank you for all your support, and may G-d bless you and keep you!

Sincerely,
Rabbi Schneur Z. Oirechman
Opportunities to Sponsor
1 Student
$54
10 Students
$540
20 Students
$1,080
50 Students
$2,700
100 Students
$5,400
Sponsoring by "Jewish Chai Numbers"
$180
$360
$540
$720
$1,080
$3,600
$5,400
 
Passover Budget 2017
Matza Shmurah(hand baked) 150 lbs.
$2,575
Wine, 40 cases
$2,494
Grape Juice – 15 Cases
$450
Maror, Karpas & Ka'arah (sader plate items)
$650
Six Rabbinical students from NY to assist
$2,000
Tables, chairs & tableware rental
$3,500
Serving bowls, trays, napkins, utensils etc.
$1,300
500 Full-course Passover dinners
$18,000
Drinks
$500
Refrigerated trucking & shipping
$1,200
Waiters, setup, clean up – 8 days
$1,850
Passover Publication & mailing
$5,000
Passover, Shabbat & last days lunch/dinners
$4,650
Matzah delivery campaign
$800
Maos Chitim (Grants for the needy)
$2,500
Total
$47,469